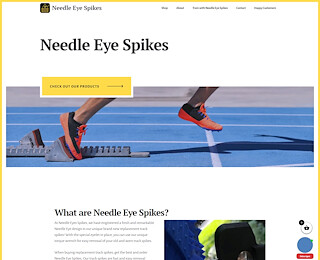 Are you searching for a sure-fire way to remove stripped spikes from track shoes? Even the most stubborn or neglected spikes will respond to a few simple tricks, but many of the most common methods require that you pack along tools to get the job done. When you tire from having to carry heavy tools in your athletic bag, consider switching to Needle Eye Spikes and you'll never need another mechanic's tool again. Needle Eye steel replacement spikes are designed with a hole that the removal tool fits neatly into for an easy twist on and twist off motion.
Stripped Spike Removal 101
Step One: Using a quality store-bought silicone spray, saturate the perimeter of the spike and keep the shoe in an upside-down position for 5 minutes. Don't try and remove the spike until the full 5 minutes have elapsed. This method is considered one of the best ways to remove stripped replacement track spikes that won't turn using conventional means.
Step Two: Using the side of a wrench or a small hammer, tap on the side of the spike until you notice some movement beginning to take place. Continue tapping for as long as it takes, repeating step one if necessary. Within 10-15 minutes, you should see that the spike is beginning to separate from the shoe. Don't skip this important step because it's key in getting the silicone spray to penetrate down to the bottom of the spike.
Step Three: Take a pair of needle-nose pliers and grip the sides of the stripped spike, then, with a gentle pulling action, begin to twist the spike in a counter-clockwise motion until the spike begins to come out. You can almost always remove stripped track spikes and deeply embedded spikes using replacement spike wrenches and pliers.
No-Hassle Stripped Spike Removal
For stress-free spike removal, pick up a bag of track spikes from Needle Eye Spikes and you'll never have to worry about borrowing tools from your fellow athletes or packing along heavy tools designed for mechanical use. Our custom-designed spike removal tools is made to fit inside of our spikes; our patented design ensures spikes come out in seconds.
Rated Best Track Spikes Sold Today
Read reviews and testimonials from our customers to see why Needle Eye Spikes are the best choice for inserting and removing spikes. With our spikes, you can get back on track faster than ever before without having to spend money at the running shoe store for pro spike removal services. When you purchase Needle Eye Spikes, you'll receive:
Pack of 14 Needle Eye Spikes
One custom NES insert and removal tool
Our spikes are made of steel and measure ¼" in length, with a pyramid shape and hole machined through each spike for easy insertion and removal.
Order one NES bag of custom spikes for yourself and one for a friend. You'll never go back to ordinary track show spikes again once you've discovered our innovative products to remove stripped track spikes.