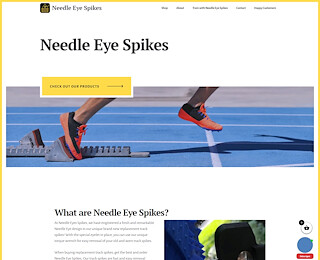 You can improve performance on the track with track and field spikes, but they come with a cost. Every athlete competing in long-distance running who uses spikes knows that they can take time to change when spikes become dull; typically, spike removal is not a time-consuming task, however, stubborn, stripped spikes can become a chore to remove and replace. Needle Eye Spikes has resolved the problem of stripped spike removal with a uniquely designed spike and tool. They're named 'needle eye' because the spike is designed with a hole through the spike and the removal tool fits snugly inside.
5 Key Benefits of Using Needle-Eye Spikes
1. When you purchase a bag of our needle-eye spikes, you'll get the quick-removal tool, as well. Inserting the removal took into the spike results in a fast and reliable spike removal every time- no matter how stripped or rusted the spike or how deeply embedded into the running shoe. A few simple twists and Needle Eye Spikes come out easily.
2. Compare Needle Eye Spikes with other high-end spikes and you'll see that NES are a very affordable option when choosing spikes for your running shoes. Some deluxe spikes costs much more than NES, and they're no different from ordinary spikes. Our product is affordable, innovative, and guaranteed to drastically reduce the time it takes to change out spikes.
3. If you've stopped wearing spikes because of the hassles that came with removing stubborn spikes, you can go back to spikes without fear of being sidelined due to difficult change-outs. It's proven that wearing track and field spikes improves performance on the track.
4. Do you typically carry an athletic bag with heavy tools to remove stripped spikes or borrow pliers form other runners instead of packing your own? That won't be a problem any longer when you switch to Needle Eye Spikes. You won't need to carry wrenches, hammers, pliers, or any other specialized tools to remove stripped, dulled, or damaged spikes- NES come out instantly.
5. How much money have you spent at shoe repair shops having stripped spikes removed? You'll never have to take your running shoes to a shoe store again and pay for spike removal; in fact, other runners will be coming to you looking for solutions to their spike problems once they see that you've resolved your spike issues for good. Tell them about Needle Eye Spikes- or let them see for themselves the reason you're no longer sitting on the bench dealing with difficult spikes.
Innovation at Its Finest
Needle Eye Spikes were designed by an athlete to enhance performance during track and field sports. At NES, we believe sports equipment should make it easier to maintain a healthy lifestyle- not make it more complicated. There are a lot of spikes on the market today made to look as though they're easy to remove, but the fact remains- any track and field spikes can become stripped, dull, and damaged. Needle Eye Spikes' design focuses on the removal tool and the spike, for faster and easier removal.