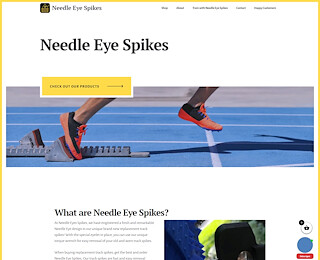 Spikes make runners' feet lighter, provide extra grip, and offer adequate traction. Track spikes project from the sole, gripping the surface as you run. It's essential to keep your shoes well maintained, including removing dull spikes and replacing them with our top-of-the-line spikes. If you're asking " how to take spikes off track shoes, below we provide a step by guide showing you the best method to remove spikes from track spiked shoes. At Needle Eye Spikes, our spikes are designed using key components to enable sprinters to run on their toes, therefore saving more energy per footfall.
Step-By-Step Guide Illustrating How to Remove Spikes from Track Shoes
If your spikes are worn out, and you're wondering how to remove track spikes, here's what you should do.
Step 1: Gather all your tools. The tools you require will depend on how stuck the spikes are. Generally, you'll need a spike wrench, WD40, needle-nose pliers, dry rag, and towel. Also, prepare the space where you'll work from. For stubborn spikes that won't come out easily, you'll need to use WD40 and needle-nose pliers.
The towel will come in handy when removing spikes because of the dirt that normally comes out as you complete the job. No matter how clean your shoes are, there might still be some dirt trapped under the spikes.
Step 2: Clean your running shoes. It's important to clean your shoes first before trying to take out the spikes. Cleaning enables you to grab the spike more easily. Additionally, you'll be left with very little mess on your hands.
Step 3: Tighten the wrench around the spikes and pull it back. This should ensure the spikes come out. But if you're unsuccessful even after several attempts and thinking of how to take spikes off track shoes, you'll require extra tools and some force.
Step 4: At this point, you'll need to use the WD40, which is a lubricating grease. The spike remover helps extract stubborn spikes. Apply the lubricant with your shoe upside down. Next, allow the lubricant to penetrate the screw threads for about 2 to 4 minutes. Once the lubricant coats the threads, carefully tap the side of the exposed part of the spike with the side of your wrench to loosen it even more. Then, grip the tip of the spike tightly using needle-nose pliers. Slowly turn the spike counterclockwise and at the same time pull upward slightly. This should remove the stuck spike.
You may still be unable to remove the spikes on your own even after following these steps, or it may prove difficult to get stripped spikes out of spiked shoes. In such a case, you can take your shoes to a running shoe specialty shop to pull out the spikes for you.
Achieve Greatness on the Track
Want to stay on track this season? We can help you. At Needle Eye Spikes, we have cutting-edge spikes that come with a responsive yet lightweight plate to deliver the quick strides and power required to leave your competition in the rear-view mirror. Also, read our tips above on how to take spikes off track shoes. Buy Needle Eye Spikes: https://www.needleeyespikes.com/product/needle-eye-spikes/.